IELTS Master Class - Best IELTS Training Institute
I'm Haris – IELTS Trainer, Education Consultant, Career Counselor & An Entrepreneur.
Clear IELTS in first attempt
Score Band 8 in IELTS Test
Education Consultant - IELTS Master Class Training - Best IELTS Training Institute
As Founder and Managing Director of Go Abroad Training Institute Private Limited, Mr. Haris has helped students, working professionals, and businessmen in transforming their lives by assisting them to settle abroad. His role as an education consultant has changed his perspective on education abroad. He made IELTS uncomplicated and facile even for laypersons across the country. Here the batches are conducted online/offline making it one of the best IELTS training institutes. Students looking for study abroad programs get free counseling from industry experts. The expert team gives full support in selecting the country, university, or college according to the budget and choice of the students.
Study Abroad Programs - Best IELTS Course
After IELTS training at IELTS Educator with the best IELTS online course, Go Abroad Training Institute Private Limited assists in getting admission to abroad universities and colleges. The study abroad programs to which the students can apply are classified as Undergraduate, Post Graduate, Diploma, Advanced Diploma, and Certificates program. Undoubtedly, Go Abroad Training Institute Private Limited has the best IELTS online course and provides excellent services to get admission into Business Management, Computer Engineering, Civil Engineering, Fine Arts, Animation, Artificial Intelligence, and so on.
As we all know, the birthplace of the hospitality and tourism industry in Switzerland. So, Mr. Mohammad Haris Riaz has created Go Swiss, a separate unit for students interested in programs like Hotel Management, Event Management, Hospitality Management, International Business Management, BBA, MBA, and so on. Go Abroad Training Institute Private Limited is the authorized representative of the prestigious colleges in Switzerland. The student willing to make their career in the hospitality sector gets full support in procuring admission with a scholarship. The best part is that, once the student receives the offer letter, they get 100% assistance in procuring education loans, tuition fee payment, and visa processing.
 After the visa approval student gets the air ticket booking facility from GoAbroad Happy Travels Private Limited.
COVID-19 has intimated to us that we need more and more doctors all over the world to combat any such future pandemic. Mr. Mohammad Haris Riaz believes that we can only make this happen only through promoting medical education. So, he created a unit MBBS World for helping aspiring students dreaming of becoming a doctor. He made a creative plan to deliver reliable and quality services for MBBS admission in India and abroad.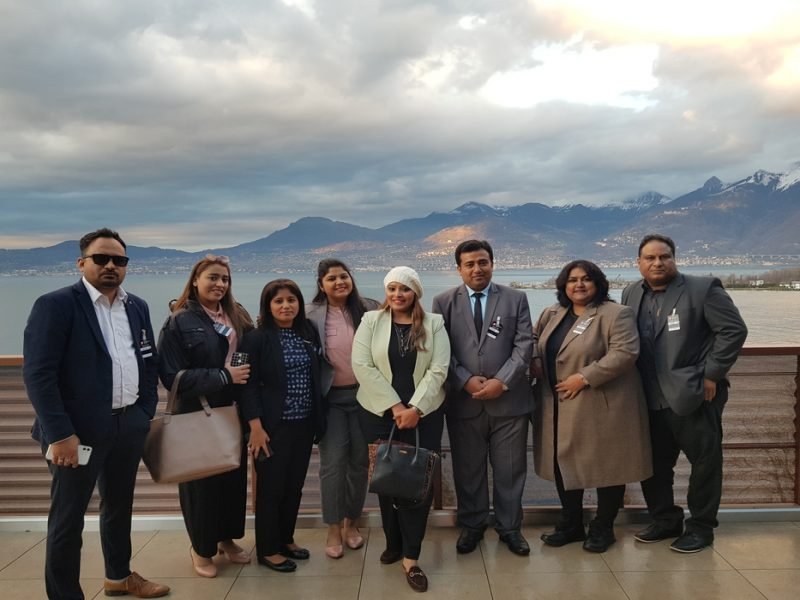 Permanent Resident Application Canada - Best IELTS Online Course
Another interesting fact is that Mr. Mohammad Haris Riaz has completed his Postgraduate program in Canada. His company Go Abroad Training Institute Private Limited also provides expert services to immigrants to Canada. His team consists of immigration lawyers in Canada. Regulated Canadian Immigration Consultant (RCIC) and members of the ICCRS (Immigration Consultants of Canada Regulatory Council / CRCIC) providing Permanent Residency services. It is the sincere effort and honest dedication of Mr. Mohammad Haris Riaz that have enabled him to incorporate Go Abroad Training Institute Private Limited. Currently, it is one of the leading study abroad consultants and the best IELTS master class. 
Best Abroad Education Consultant in Uttar Pradesh - Best IELTS Training Institute
Mr. Haris set up Go Abroad Training Institute in 2014. From the students' perspective, it is also the best IELTS training institute. He started this consultancy for the betterment of students. In a short span of time, Go Abroad Training Institute became the authorized representative of many reputed universities and colleges around the globe. His company gives honest advice and free counseling to every aspiring candidate planning to study abroad. 
All the students who went abroad to attain higher education are completely satisfied. The reason behind this satisfaction level is that this consultancy provides all services under one roof. The company has set up a platform, that is, IELTS Educator known for its services as the Best IELTS Training Institute. After IELTS coaching they provide all the services till the final settlement of the students.    
In 2017, Mr. Haris received this trophy from Bollywood actress  Neha Sharma; for being the Best Abroad Education Consultant in Uttar Pradesh